STEM and STEAM Toys
STEM and STEAM are the new terms for the hottest trend in educational toys for young children. STEM stands for Science, Technology, Engineering, and Math; and these toys are engaging and stimulating for young minds to toy around and play with concepts in these fields without even realizing it. STEAM is similar, but also includes the category of Art. The idea is that this educational approach utilizes Science, technology, engineering, the arts, and mathematics to guide young minds though inquiry, creativity, dialogue and critical thinking. This is especially appealing for young girls who traditionally tend to shy away from these subjects and career paths as they grow up. The idea is to introduce these fields of learning at a very young age and stimulate the natural curiosity young minds possess. Obviously, this also means these toys must be FUN more than anything!
If you have a young daughter or son, niece, nephew, or grandchild, or whomever to buy for soon and you're looking for an educational toy they will love take a look at our list we've compiled of some of the best STEM toys of 2019, added bonus is their parents will love these gifts as well. This list is composed of STEM toys geared towards very young children from 1 – 3 years old. Keep in mind most STEM toys are not gender specific, these toys are appealing to every child.
STEM Toys for Toddlers
It is never to early to introduce STEM and STEAM toys, and little ones in the bracket of 24 months to 36 months are no exception. These young minds are so curious and at this age it is all about capturing that curiosity. There are dozens and dozens of amazing toys for this age group, but we are going to narrow this list down to just ten of the best sellers, most popular, and most educational toys for this category.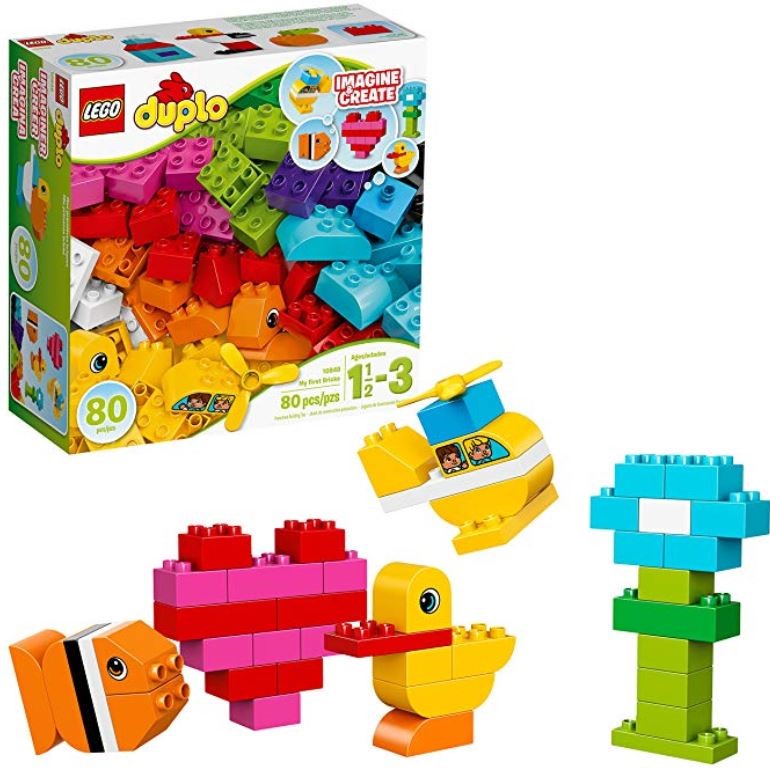 These timeless toys are amazing, they come in all sorts of themes and colors, from basic primary colors to some more girly options in pinks and purples. There are also super fun themed sets like farm animals, cars, trains, pets and even gardens which can be found on amazon as well as your local toy stores. These toys are amazing for hand-eye coordination, and can be a starting point for introduction into colors, numbers, and basic vocabulary. The best part about these Duplo Lego sets is they all work together and new sets can be combined and make for endless options for young minds to creatively build and explore new worlds.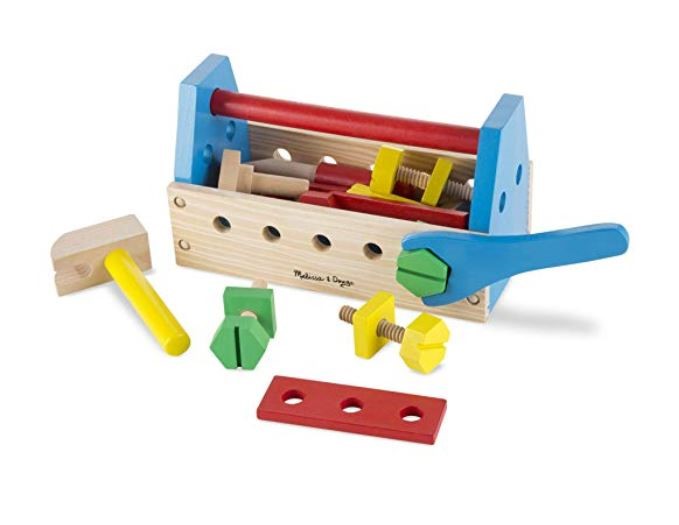 This is a great option for both girls and boys, who like to build or take apart. There are numerous options for small easy to carry sets, but this Melissa and Doug tool set has routinely come out as a best seller with great reviews from parents. The set is a great size, easy for even little hands to tote around and carry. It includes enough large screws, bolts, nails and bolts as well as screwdriver and hammer to allow for little ones to experiment and explore the world of building. This set comes in bright primary colors and made from quality wood and is very sturdy. Again this is one of those toys that lasts and lasts, a one time purchase that can be passed down to younger siblings or donated when the time comes.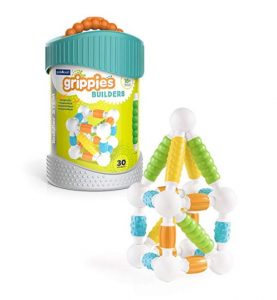 Our next choice is newer on the toy scene, but has quickly proven to be a top choice for young toddler sized hands to build and explore creatively. Grippies Builders are similar to other building systems such as magnaformers or construx however they are designed to hold up to the rough play of a 2 or 3 year old. They are magnetic like the others mentioned, but they are thicker, have small bumps for easily gripping and much more durable. A serious warning here; Magnaform tiles and sets, while absolutely awesome are not meant for such young children. They can break and the magnets can easily be swallowed by the Under 4 age group which is extremely dangerous. These larger magnetic builders are a much better choice, they allow your young daughter or son to build, and without realizing it they are gaining special awareness, hand eye coordination, exploring the ideas of balance and engineering.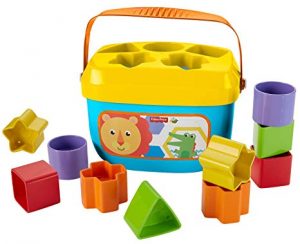 This next toy is another timeless classic that falls into the category of a "STEM" toy, Fisher Price Shape Sorter box is always a great choice for a toddler gift. The bright colors are engaging and the large shape blocks are easy for tiny hands to maneuver. Hand eye coordination is developed as your little one navigates the blocks into the correct corresponding hole then dumps the entire box out over and over for endless entertainment. The Shape Sorter Blocks are a great choice for both boys and girls and like the others on this list are safe, easy to clean, and super durable to withstand even your roughest toddler.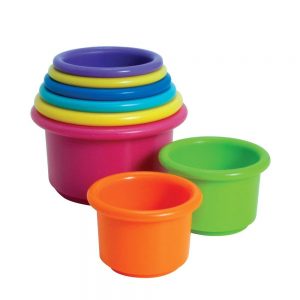 Stacking cups are yet another perfect choice for any child. They are brightly colored and lend themselves to endless fun nestling them into one another or flipping them over and stacking them. They are super durable and sturdy as well, but an awesome angle here is that they can be used inside or out, in a sand box or in the bathtub. Filling them up with sand and pouring into one another, watching one overflow a smaller cup, or in the bath tub watching them float or spill over when filling with water. These stacking cups help little minds explore the world around them, while having fun. These are the types of toys little toddlers come back to over and over again, which makes them a perfect gift choice.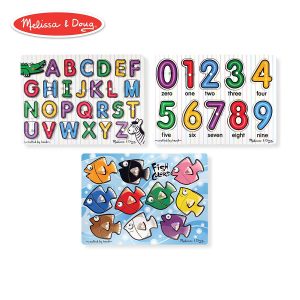 Puzzles, Puzzles, and more Puzzles…this is a timeless classic toy and they come in every theme you can imagine. Some of the most popular and well-made puzzles come from Melissa and Doug. They even have small wire racks to organize all of the puzzles your child loves. Melissa and Doug puzzles make wonderful presents, you can pick any theme that the child is interested in or you can go with classics like ABCs and Numbers, or Shapes and Colors to begin introduction to these basics. It is never too early to start introducing little ones to letter and number recognition and themes like colors and shapes. Besides the themes introduced to children playing with puzzles, the added benefits include: hand-eye coordination and the pincer-grasp development.
7 - Fisher Price Think & Learn Code-a-Pillar
After all those classic toys, here's a toy we are certain you never played with in your childhood, the Fisher Price Code-a-Pillar. This toy is basically an introduction to the world of coding. The child can rearrange the segments to "program" a path for their caterpillar to follow, moving it left, right, forward. Each segment lights up as the action is performed, with fun sounds to keep the youngest of children engaged. This fun new toy encourages critical thinking and problem solving. Children can set up an obstacle course or a Start and Finish goal, then creatively and independently find a way to get there. These concepts of thinking big and independently are so vital in the world of STEM, and they can be encouraged and introduced at a very young age. This Code-a-Pillar toy is so cool and little ones have fun being in control of the toy's movement all on their own.
8 - Playskool Explore 'N Grow Busy Gears
Another fairly new toy is the Playskool Explore n Grow Gears Set, these sets are so much fun! They come with dozens of brightly colored magnetic gears that can be arranged on a magnetic board and turned and twisted to create movement. Parents are raving about how much their little ones love this toy. The lights and sounds help keep even the youngest child intrigued, then they can press it on and watch them move. It's a great toy for car rides to help keep your child entertained and occupied.
9 - MEIGO STEM Toys Engineering Blocks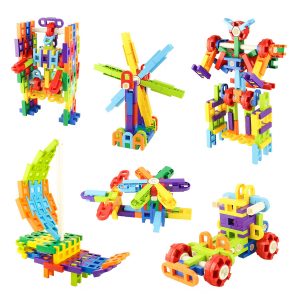 MEIGO STEM Toys Engineering Blocks are yet another building set, but what parents love about this set is the flexibility and ability to grow with your child. This set comes with more than enough pieces to keep any child entertained. Sometimes some block or building sets come with just enough to build very simple designs leaving your child disappointed or needing to go out and purchase additional sets. With MEIGO the possibilities are endless with a 110 piece set, 105 of which are the actual blocks, then also ratchets and a drill. It also comes with a manual for ideas on how to build 31 cool designs that are divided into 5 stages to challenge children at different ages and development, and best of all a storage container to put it all away when play time is done. This system is all inclusive you won't need to purchase anything else. Let the child's imagination run wild and explore building, shapes, and design while also developing their hand-eye coordination and fine motor skills. This set will definitely grow with your child, for your toddler they easy to clean (those teething days), and safe with rounded edges and no sharp corners, and on up to your preschooler helping them learn the concepts of teamwork and cooperation, explore their creativity, and even up to your young school age child, up to even 10 years old, when they can challenge themselves with more difficult builds and develop problem-solving skills and logical thinking.
10 - GeoSafari Jr. Kidnoculars
The last toy to make the list is the Geo Safari JR Kidnoculars, these sturdy binoculars are great for taking out with your toddler on adventures, whether that adventure is a walk to the mailbox or a hike in the great outdoors. Young minds are curious and excited about everything in nature. Slow down and let the little ones explore the birds in the trees, and search their surroundings, they will love getting a closer look at the world around them and these sturdy enough to hold up against the inevitable bumps and drops that come with toddler territory. Another idea that is similar would be the magnifying glass, like this Jumbo Magnifier Set from Learning Resources, while the magnifying power is limited, they are safe and shatter proof and a great introduction to science and exploration.
There are dozens of other toys that are great for introducing and exploring the world of STEM with toddlers, these are simply some of the best reviewed and most popular toys that have proven to be popular with toddlers while also being safe, sturdy, and well-made while also encouraging early concepts in the sciences, technology, engineering, and mathematics. Remember if your child is going to get the most out of any toy if they are having fun, so make learning fun, relaxed and let them take the lead